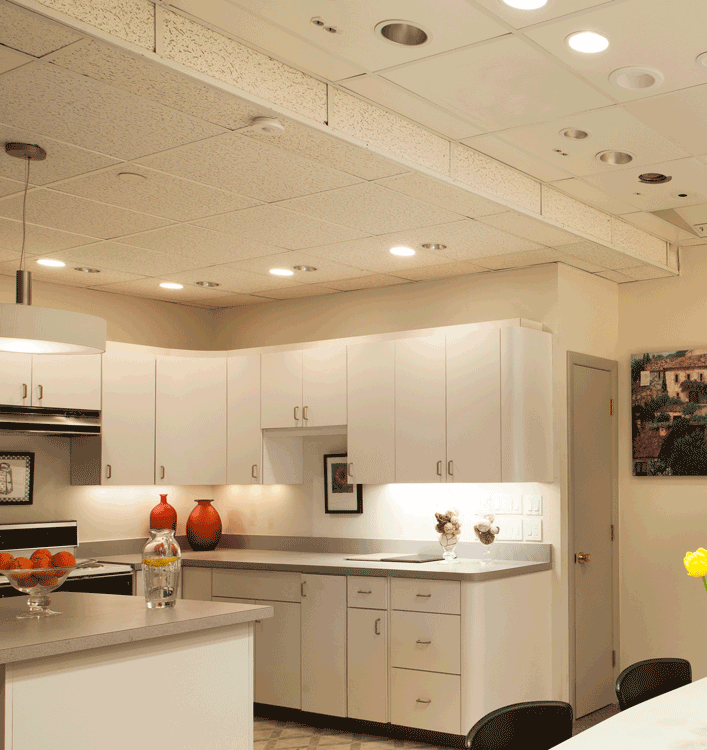 Our Lighting Design Center was created to show you the effects of lighting. It allows you to see a variety light sources all in one room. Our customers tell us our Lighting Design Center makes their planning and process easier because they can compare lighting with a flick of the switch.
We make understanding recessed lighting easy for our customers. In our center you will see the difference between incandescent, halogen and LED recessed lights. See the many ways recessed lighting creates an atmosphere in your home, including general lighting, wall-washing, grazing, and accent lighting. Because of today's ever-changing technology, we keep our lab updated with the newest and latest in lighting.
See the latest in under cabinet lighting and which is best to light up your counter top. We encourage you to bring in a sample of your counter top to see the effects different light sources have on your surface. Learn about the many uses of LED tape lighting, including using it as accent lighting for your cabinets and shelves.
Bathroom lighting around your mirror is important for makeup and shaving. Placement of lighting and light output makes a difference in how you see yourself. Compare lighting placed over the mirror to lighting on the sides of the mirror. Choose from many light sources in bath lighting including, incandescent, halogen and LED lighting. Let us show you in your best
light.
When you work with one of our lighting consultants in our Lighting Design Center we will cover all areas of your project. There is never one solution to each application. We will help determine the best light source for your project, the right color temperatures, and determine the best placement of each light. All this and more is carefully planned with our lighting consultants. Make an appointment with one of our consultants and see your plans come to light.