Lighting controls offer many benefits. They allow you the flexibility to design a lighting plan with multiple uses. Whether you are looking to reduce energy costs, increase comfort, or manage light control solutions, we can offer the flexibility you need with the energy savings you want. With the touch of a button Lighting Controls enable you to:
Lower light levels to conserve energy and increase bulb life
Create and vary the mood of a room
Control the light levels as to the activity in the room
Many controls allow you to save different lighting schemes in one room
At Newton Electrical Supply when we design your lighting plan, we also incorporate your lighting system. It is an important part of your lighting plan as it will set a mood in each room and provide functionality for convenience, security, and ambiance. There are a variety of lighting control systems, all offering different benefits that fit your home and lifestyle.
With the many different light sources available, you need to make sure you use the appropriate dimmer for the light source it is working with. This can be confusing, but makes a difference in how your lights will work. Our consultants are trained in this and will help you understand what will work with your light sources.
Lighting controls come in many different styles and designs. They also come in designer colors to match your decor. Integrated lighting controls allow you to choose different scenes in one room. Walk into your house and touch a button to light up the hallway to your kitchen or bedroom, then another button to turn all the lights off. Maybe a switch at the top of your basement stairs to make sure all the lights are off without ever needing to go downstairs.
Whatever it is that fits your lifestyle, we can create that mood with lighting controls.
Personalize the light in any space. Single room solutions allow you to effortlessly adjust your lighting for different tasks. Switches, wall plates, phone, and cable jacks come in a variety of colors to match your décor.
Save Energy by using dimmers, timers and sensors. Automatically turn off lights or bathroom exhaust fans with a countdown timer. Ensure lights in unoccupied rooms are never left on with an occupancy or vacancy sensor.
Convenience by controlling your lights from anywhere in a room or even outside your home.
Control of your lights isn't limited to a spot on the wall. Adjust lights or ceiling fan from your bedside, turn lights on or off from your car or use an occupancy sensor so lights will turn off automatically.
Remote Control dim the lights and start a movie, all without leaving your seat. Turn lights on or off from outside your home, whether you're in your car or out for a walk. Adjust lights and ceiling fans using a remote control.
Shade controls involves the ability to fine-tune how much sunlight enters a room. Control your shades or draperies to create privacy or protect valuable furnishings. Reduce glare on your computer and television from windows or a skylight. Add elegance with a variety of window treatment styles. There are a variety of shade options for you to choose to match your decor.
Personalized Light Control Create lighting "scenes" by controlling multiple lights in a room, For example, in your kitchen adjust your recessed , under cabinet, and decorative lights all with a touch of a button. In your bedroom, turn on a reading light and close the drapes from your bedside or transform a family room into a home theater experience.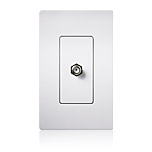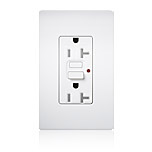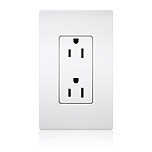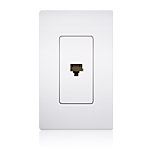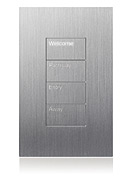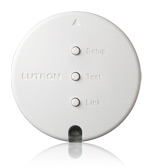 Whole House Controls allow you to control the light and shades in a single room or throughout your home using a hand-held remote, wallmounted keypad, tabletop control and your iPad or iPhone.
Integration & Home Automation Seamlessly integrate technology into your home. Lutron light control systems can combine with audio, video, security, and HVAC. Lutron designs its controls to work reliably and intuitively with other systems in your home.
Energy Savings Whole-home systems make it easy to dim the lights throughout your home to create ambiance and save energy with wireless controls. Install discreet occupancy/vacancy sensors to ensure lights are turned off when rooms are unoccupied.
Safety & Security with advanced wireless lighting control. Create a safe path of light to, through, and around your home. Connect your security system to your lighting system for an added level of assurance. Add automated shades to create privacy or protect valuable furnishings.
Control Lights from the Car. With a lighting system, you can press a button and your interior/exterior lights turn on as you arrive home. Illuminate a pathway of light from your car and into your home. Ensure lights are turned off when you leave with a single touch of a button.
Multi-room Control allows you to customize areas of your home to meet your needs. Whether you want seamless transitions from your kitchen to your dining and family room areas, or a master bed and bath that is a relaxing retreat, wireless control can make your lights more intuitive and personalized to your lifestyle.
"Away" and "Vacation" Mode for security when you leave your home. When you leave for the day, simply press "Away" and conveniently leave your home exactly as you like it – all lights off, all lights on, or anywhere in between. Program a "Vacation" scene to replay your daily routine – turning the lights on and off, raising and lowering the shades – as if you were still home.